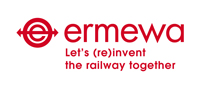 We are pleased that ERMEWA SA is the new SILVER sponsor of the IRFC 2022.
Thank you very much!
Ermewa SA is a European leader in railcars leasing. The company provides maintenance, repairs, and operations through its European network of certified workshops and partners. It addresses all segments thanks to its fleet of 44,000 railcars, dedicated to transport hazardous and non-hazardous liquids, gaseous, bulk and diversified general cargoes including food and non-food products. With a network of 16 offices in Europe, it provides industrial companies, railway undertakings and freight forwarders with a range of more than 120 different types of railcars.
The company is an ECM (Entity in Charge of Maintenance) certified company. As part of its management, the company has implemented a Quality Management System, certified according to the ISO 9001 standard.
Ermewa SA is part of the Ermewa Group, which also includes Eurotainer as well as Raffles Lease and Demi, offering management and leasing of ISO tank containers to companies. INVEHO workshops complete the portfolio of the Ermewa Group. Its range of services includes the construction, maintenance and repair of rail vehicles