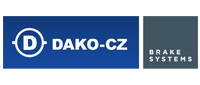 We are honored that DAKO-CZ is the GOLDEN SPONSOR and the Sponsor of the Czech Dinner at IRFC 2022. We greatly appreciate this support and many thanks!
DAKO-CZ is the leading manufacturer of pneumatic, electromechanical and hydraulic brake systems and components for rolling stock with a tradition dating back more than 206 year. The firm, which has a planned annual turnover of around 82 million euro, 79 % of which is made up of contracts abroad, is based in Třemošnice in eastern Bohemia. The owner of the company is the company CZECHOSLOVAK GROUP a.s.
DAKO-CZ supplies brake systems and components for freight and passenger vehicles, suburban units, locomotives, maitenance cars, metro cars and trams. Rolling stock with DAKO brakes can be seen not only in Europe, but also in China, India, Malaysia, Indonesia, and Algeria, where the company collaborates with global rolling stock manufacturers and rail transport operators.
In 2021, a new production company was opened, DAKO-CZ Machinery, in Ostrava, and this year it established two joint ventures in India, where it has been growing rapidly for several years in a row. These are the companies MEDHA DAKO-CZ Pvt. Ltd. and JWL DAKO-CZ (INDIA) Ltd.
The company has its own development, a modern testing laboratory and a design and construction centre.