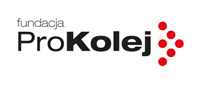 From the beginning, the purpose of the Foundation has been to expand the possibilities of railway transport development, to protect the rights of rail customers and users, and to present the potential and needs of the sector. The organisation actively works to improve the image of the Polish railway, to make the conditions of operations more transparent, to support the development and increase the safety of transport and investment in the sector.
On a regular basis, the Foundation is involved in an intensive correspondence with Polish central and local administration offices as well as with entrepreneurs and market regulators, it actively participates in giving opinions on legal acts and development programmes and plans. It is present at meetings of parliamentary committees, industry working groups and opinion groups. Foundation analyses and presents the results of her own analyses and studies on the transport market trends. It cooperates directly with universities, engaging in scientific research and publications on railways.
The Council of the Foundation and the Scientific Council, supporting it, animate cooperation of railway entities, contacts of scientific and business circles. Under their authority cyclic debates, conferences, from cycle "Kolej365" are organized.
Nadace ProKolej
Ulice Skorupki 5
00-546 Varšava
Poland